Your E-Commerce Learning Journey
According to i-Metrics Asia Pacific Corporation, the Philippines' E-Commerce Intensity Index is at 10% of our country's gross domestic product.
With more than  30 million digital buyers in the Philippines, it is time for more micro, small, and medium-sized businesses to venture into e-commerce. Use it as a means to promote their products and services online. A new revenue channel.
Through the Philippines E-Commerce Roadmap 2016 to 2020, the government and private sector view e-commerce as a strategic means to achieve economic growth.
If the growth of e-commerce will be sustained and supported, it can reach up to 25% of our GDP by 2020.
A common dilemma found behind slow e-commerce adoption in business is there are very few professionals today who have well-rounded knowledge on e-commerce covering business models, buyer persona creation, policies, supply chain management, payment systems, fraud handling, outsourcing, project management, site development, digital marketing, among others.
Hardly are there college educational institutions offering e-commerce learning programs. We hope this training will help schools in developing e-commerce training programs and be offered at K-12,  TESDA short courses, and CHED approved e-commerce degree or diploma program.
In collaboration with the Asian Institute of E-Commerce and AIE College (Dagupan City), we are launching Version 3 of our 11-module blended learning certificate program with the aim of creating a movement of ethical e-commerce professionals.
Push for the growth of e-commerce entrepreneurship and serve the growing needs of businesses locally and internationally.
Everything You Need To Know About E-Commerce
Promoting the growth of e-commerce in the Philippines since 1997, Janette Toral is the lead trainer for this program and will be inviting more than 40 e-commerce experts in this field as resource persons on the various topics. She is:
E-Commerce Advocate helping the government in implementing the Philippines E-Commerce Roadmap (2016-2020).

Partnered with Asian Institute of E-Commerce and AIE College to offer the Certified E-Commerce Specialist, Entrepreneur, and Professional Program.

Co-founder and Data Protection Officer of i-Metrics Asia-Pacific Corporation. Creators of the E-Commerce Intensity Index and E-Commerce Maturity Scorecard.

Distinguished expert for the 2nd & 3rd Expert Committee of the APEC E-Commerce Business Alliance (June 2016 to September 2022).

Her e-commerce project and consulting exposure ranges from business model development, supply chain partners build-up (3rd-party B2B listing, logistics, and payment), website creation, customer relationship management, live chat support, e-mail follow-up, search engine marketing, bloggers for affiliate marketing, social media advertising.

She is into the conduct of e-learning using various platforms since 2003.

Author of the DigitalFilipino: An E-Commerce Guide for the eFilipino, DigitalFilipino E-Commerce Workshop E-Book (McGraw-Hill Education Asia), and Blogging from Home.

Certified ScrumMaster, Certified Scrum Product Owner 

Fascinate Certified Advisor

Independent Executive Director & Certified Coach, Teacher, Speaker for the John Maxwell Team.

Completed "Mastering Business Models" and "Mastering Value Propositions" at Strategyzer.

Completed "Persuasive Presentations at Duarte Academy.

She developed and conducted the 10-module E-Commerce and Digital Marketing Mentoring Program for MSMEs at Department of Trade and Industry -Cebu (3 batches) and Bohol (1 batch) assisting around 80 MSMEs. Total combined sales, as campaign output, at 9 Million pesos.

She developed an "E-Commerce & Digital Marketing" for Rural Impact Sourcing Technical Training (RISTT) for the Department of Information and Communications Technology in 2017 targeted at aspiring freelancers with MSMEs as case study (for experience portfolio). It was rolled out in 26 rural locations taught by various trainers. In 2018, she developed additional RISTT programs including Virtual Assistance, Web Development with WordPress, and Social Media Marketing. Her programs were taught by various trainers in 68 rural locations.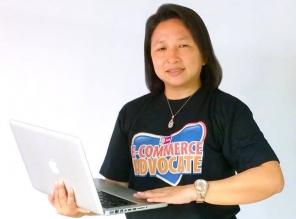 Your E-Commerce Journey Starts Here
Push for the growth of e-commerce entrepreneurship and serve the growing needs of businesses locally and internationally.